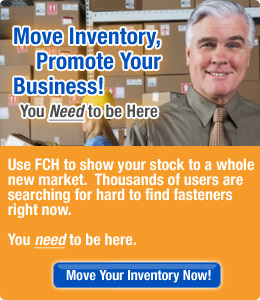 "Fasteners Clearing House [FCH] has worked well for us both on the sale side and in finding hard to find parts as well. We get inquiries at least once a week from there if not more often and several have turned into sales over the years. "
Joshua Morrison
Nuts and Bolts Inc, in Omaha, NE
Home > Fasteners by Commodity Type > Nuts by Fastener Type
Nuts by Type

Nuts, or mating fasteners, are available in hundreds of different shapes and sizes for any project or application. Varieties are normally hexagonal or square in shape, and have either coarse or fine internal threads that correspond to those of a mating bolt or screw.

Search thousands of Nuts in the FCH database of surplus, odd lot, slow-moving and hard to find fasteners. Click one of the links below to find everything from Finished Hex Nut to Wing Nut from hundreds of fastener distributors.

Detailed Listing of all the types of Nuts by material and size