Media
Fastener Distributor Index (FDI)
Fastener Distributor Index (FDI)
A monthly snapshot of fastener industry operating conditions and sentiment
The Fastener Distributor Index (FDI)
is a measure of current conditions and market sentiment within the private North American industrial fastener distribution industry. Based on a monthly survey and published report, the FDI was developed in 2012 as a service to the fastener industry by the
FCH Sourcing Network
and analyst
Holden Lewis
, then with
BB&T Capital Markets
.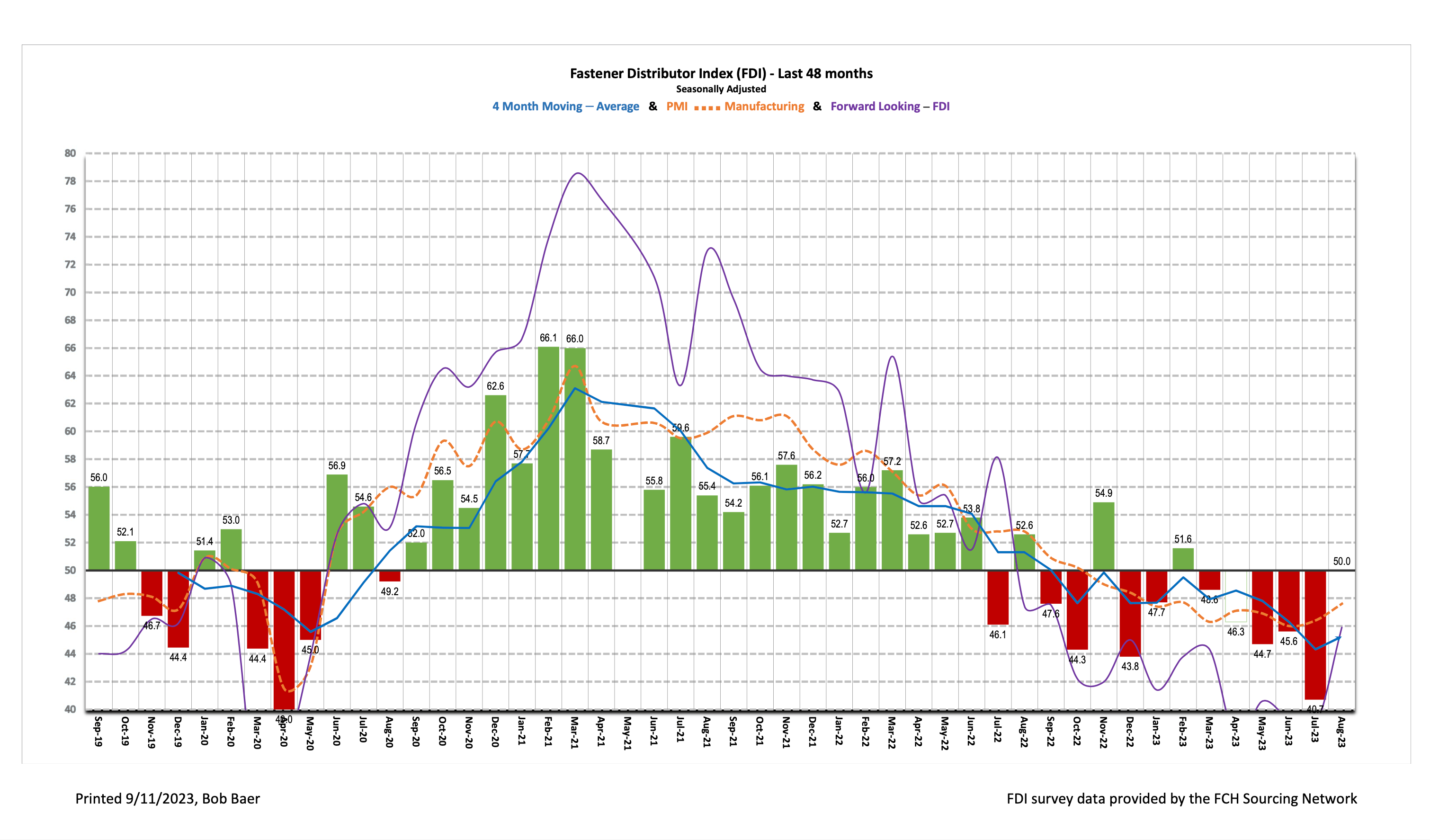 Like the
ISM Purchasing Managers Index
(
PMI
), the
FDI
is a weighted diffusion index, where a reading greater than 50 indicates growth and less than 50 represents contraction. Indeed, the FDI was modeled after the PMI to become a new benchmark for industrial fastener distribution.
Today, with analysis by
David Manthey
of
R.W. Baird
, the FDI reflects a robust history of market conditions. David and his team developed a new component for the index called the
Forward Looking Indicator (FLI)
, which attempts to project conditions in the coming 6 months based on respondent input.
Every month we publish the full FDI report from R.W.Baird on our news site news.fastenersclearinghouse.com. You can read this report by
clicking here
. A link to the complete pdf is included in this report.
The monthly FDI report is distributed to participating members, news outlets and organizations and is further analyzed on the popular fastener industry podcast
Fully Threaded Radio
, with host
Mike McNulty
of
Fastener Technology International Magazine
.
The
FDI Survey website
is a resource than can be accessed by anyone, but it can only be updated by registered invitees during the monthly open survey period, which occurs during the last week of each month.
A comparison of the FDI and PMI from its inception is available on
this historical graph
, which represents index data from 2012 to the present, contributed by
Bob "GQ" Baer
of Abbott Interfast. Seasonal adjustment calculations were added to the formula used to compute the FDI beginning in 2015, and were retroactively adjusted on the numbers shown.
If you are interested in being a more active part of the fastener industry, you can apply to add your company to the FDI survey group
. Complete the "Request an Invitation to Participate" form by
clicking here
. Once verified, you will receive login ID and password information and you will be notified by email every month when the survey period has been opened.
All survey data collected is maintained in strict confidence and is compiled for publication in index form. All information provided to the analysts is anonymous, and no information collected or compiled through the FDI monthly survey is shared, sold or otherwise used outside the scope of the index.
Contact FCH
with additional questions: 877-332-7836