About
How do I list inventory on FCH?
List Your Inventory
FCH makes it easy to list inventory and make it easily searchable
Once you've
created your FCH account
, uploading inventory is a snap! Just login and click on the
Inventory
link on the toolbar. The upload process is a lot like adding an attachment to an email. Most people upload a spreadsheet of their inventory, and there is a sample template on the Inventory page.

All fastener uploads then pass through the legendary
FCH Scrubber
process, which cleans up your data, and makes it easier for search engines like
Google
to find it. Your listings will usually appear on the FCH website during the next upcoming daily reload of the FCH database, which happens during off-peak hours.
Updates:
Don't worry about getting it perfect the first time! We encourage you to add to your listings and update them frequently. Updating is the best way to keep your listings high in
Search
results, and improves your chances of making sales. If anything, most FCH members do not update often enough. If you update on a monthly basis, that seems about right for most members.
More on Formatting:
The easiest and most common format is a three-column spreadsheet, (Part Number, Description, Quantity on Hand). The Scrubber software will pass through the description information you upload, and we will add any special changes it finds to your member profile if needed, so future uploads will recognize your format preferences. If you have an extra column for a second description, that is perfectly OK. The software is configurable and flexible. And also, don't worry about trying to make your description understandable. Save yourself the time, because The Scrubber has processed millions of lines of inventory like yours (and often far worse) and it will do the work for you!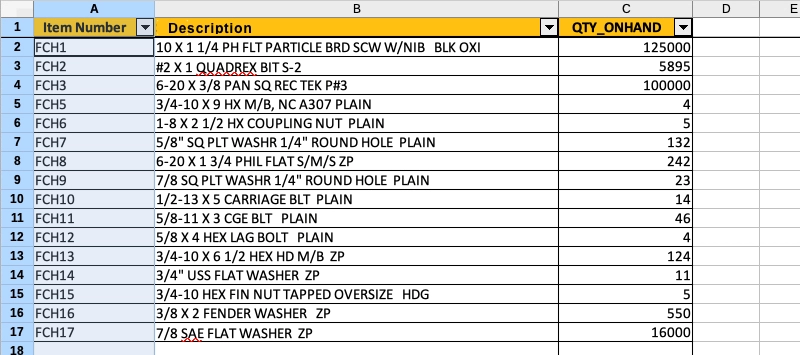 If your company uses
INxSQL
or
Business Edge
, you have the added advantage of a direct link to FCH. You just select your inventory and click a button! Set up instructions are available for you on your
Member's Home
page.
(There is also undocumented ability to load and maintain inventory using
Distribution One
)
What are you waiting for?
Join FCH now
and be a part of the Network!