Fastener Distributor Directory
Fastener Distributor Directory
Welcome to our Fastener Distributor's Directory, the world's largest directory of fastener suppliers, manufacturers & distributors. Search or browse through our comprehensive directory of hundreds of fastener companies. Use our directory to find companies who specialize in fasteners for your end market or geographic location.
Browse Fastener Companies
6 fastener companies in the alphabetic group O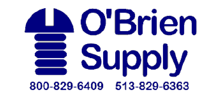 513-829-6363
4780 Industry Drive, Fairfield, OH, 45014
Metric fasteners; General Industrial Hardware; Bolts & Cap Screws; Studs & Threaded Rod
FCH Member since 10/13/2009
Ocean State Stainless Inc.
800.394.6396
15679 Chemical Lane, Huntington Beach, CA, 92649
Ohio Industrial Supply Inc
800-446-2467
1220 MARKET AVE S, CANTON , OH, 44707
Optimas
864-523-2168
2301 Patriot Blvd, Glenview , IL, 60025
Oregon Bolt Inc.
971-244-0800
14965 SW 72nd, Tigard, OR, 97224
OSSCO BOLT & SCREW CO.
(401) 461-6900
1351 Elmwood Ave, Cranston, RI, 02910
Top of Page