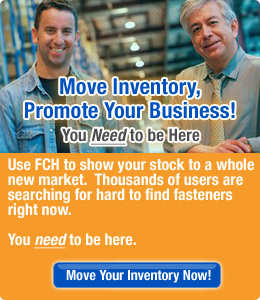 "My sales team relies on FCH to make sales all the time, but I was really impressed when I found my own website through FCH while doing a Google search!"
Joe Truckey
Cal-Fasteners, Inc.
Home > Fasteners by Commodity Type > Industrial Hardware by Fastener Type
Industrial Hardware by Type

Search thousands of Industrial Hardware in the FCH database of surplus, odd lot, slow-moving and hard to find fasteners. Click one of the links below to find everything from Ball Bearings, Balls, Bearing Mounts to Strut Systems (Channels, Clamps, Hangers, etc.) from hundreds of fastener distributors.

Detailed Listing of all the types of Industrial Hardware by material and size