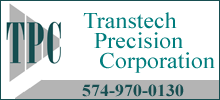 FCH Member Advertisement
Wedge Anchors , Plastic
Wedge Anchors, or Wedge Stud Anchors are very popular medium to heavy-duty mechanical expansion anchors designed for use in pre-drilled holes in masonry. These are four-part assemblies consisting of a threaded body with a wedge shape at the other end, a sleeve, a nut and a washer. As the nut is tightened the sleeve expands and "wedges" itself against the masonry.
3 results, (click on any line for more information)
Buy Wedge Anchors from one of our FCH Network Members
Supplier
Loc
Type
Material
Finish
Size
Description
Qty
Komar
IL
Wedge Stud Anchor
Plastic
Plain
#2345 3/8
#2345 3/8 to 1 rawl wall ancher(zip-it) plastic
200
Mansco
MI
Wedge Stud Anchor
Plastic
Plain
1 3/4 x 3 1/2
plastic wedge-black
155
All Size
TX
Wedge Stud Anchor
Plastic
Plain
12.8/14
12.8/14 volt plastic wedge amber
20
Trademarks identified with products listed on this website are the property of their respective owners, not FastenersClearingHouse.com.