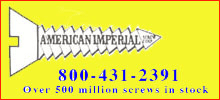 FCH Member Advertisement
3/8 12 Point Flange Nuts
Twelve Point Flange Nuts, or Ferry Head Nuts are tightened with standard twelve point socket wrenches. The 12 point design permits greater torque to be applied to the bolt and eliminates the rounding of the hex socket that occurs with standard hex sockets.
2 results, (click on any line for more information)
Buy 12 Point Flange Nuts from one of our FCH Network Members
Supplier
Loc
Type
Material
Finish
Size
Description
Qty
AIH
AZ
Flange Nut, 12-Point (Ferry Head)
300 Stainless (A1,A2, 18-8,304,310 etc.)
Plain
3/8-24
bolt double hex ext washer s/s
1350
CONTAERO
NJ
Flange Nut, 12-Point (Ferry Head)
Grade 8
Zinc/Yellow
3/8-24
std znc/ylw dbl hex nut
425
Trademarks identified with products listed on this website are the property of their respective owners, not FastenersClearingHouse.com.