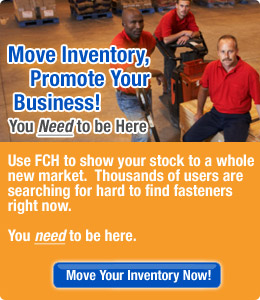 "We sell items all the time using FCH and have recovered our membership cost after less than two months."
Tom Hatzis
Fasteners & Metal Products Corporation

Home > Close Outs
Closeouts, clearance items for FCH Members

FCH was conceived as site where suppliers and distributors could list inventory and show the world what they have. It was also where people searching for inventory could easily find what they were looking for, even though the original lister may not have described in a way that made much sense. But people have always asked us if we had a way where they could list just a single type of surplus fastener that they had way too much of. And show that to people in a very targeted way. So we have developed CloseOuts. Our way of meeting that demand.
Bolts and Cap Screws

1/2-13 x 2-1/2 Flat Head Socket Cap Fully Threaded Alloy Steel
Price: $220/1000
Quantity: 5500
Location: Florida

1/4-20 x 1-3/4 Flat Head Socket Cap Fully Threaded 316 Stn
Price: $90/1000
Quantity: 5000
Location: Florida

7/8-9 x 3 1/4 Hex Head Cap Screws, Grade 5, Plain
Price: $0.44 each
Quantity: 6200
Location: Virginia

#12-24 x 2-1/2 Socket Cap Screw Fully Threaded Alloy Steel 4900 pcs Avail $80/m
Price: $80/1000
Quantity: 4900
Location: Florida

Nuts

3/8-16 Flange Nylon Insert Lock Nut. Stainless Steel, waxed, 2,500/box. 27.4 kgs/box
Price: $0.095 each
Quantity: 385,000
Location: Texas

7/8-9 Lock Nut Technology Regular Flange Oval Lock nut Grade G Phos & Oil
Price: $.42 each
Quantity: 750
Location: Virginia

Rivets

All aluminum Blind Rivet, 1/8 diameter, .063-.125 grip, .275 max length, Dome head
Price: $8.00/1000
Quantity: 550,000 pcs
Location: Michigan

3/16 X 7/32 X 5/16 OVAL HEAD SEMI-TUBULAR STEEL RIVETS ZINC PLATED
Price: $10.00/1000
Quantity: 280,000 PCS
Location: Michigan

1/4 X 11/16 SPECIAL FLAT HD STEEL SOLID RIVETS .557 HEAD DIAMETER
Price: $5.00/1000
Quantity: 195,000
Location: Michigan

Screws

#6 x 3/8 Phil Pan Head, Tek #2 point, Hardened, Zinc Plated
Price: $3.43/1000
Quantity: 20000
Location: Texas

#6 x 1/2 Phil Pan Head, Tek #2 point, Hardened, Zinc Plated
Price: $3.78/1000
Quantity: 184,.9M CA, 60M TX, 300M IL
Location: California, Texas, Illinois

#6 x 5/8 Phil Pan Head, Tek #2 point, Hardened, Zinc Plated
Price: $4.14/1000
Quantity: 60M CA, 96M TX, 12M IL
Location: California, Texas, Illinois

#6 x 3/4 Phil Pan Head, Tek #2 point, Hardened, Zinc Plated
Price: $4.52/1000
Quantity: 70M CA, 40M TX, 59.32M IL
Location: California, Texas, Illinois

#6 x 1 Phil Pan Head, Tek #2 point, Hardened, Zinc Plated
Price: $4.37/1000
Quantity: 265.384M CA, 100M TX. 70M IL
Location: California, Texas, Illinois

#6 x 1-1/4 Phil Pan Head, Tek #2 point, Hardened, Zinc Plated
Price: $5.12/1000
Quantity: 23.37M CA, 20M TX
Location: California, Texas

#6 x 1-1/2 Phil Pan Head, Tek #2 point, Hardened, Zinc Plated
Price: $5.74/1000
Quantity: 90M CA, 6M TX, 42M IL
Location: California, Texas, Illinois

#8 x 3/8 Phil Pan Head, Tek #2 point, Hardened, Zinc Plated
Price: $3.85/1000
Quantity: 200.4M CA, 120M TX, 70M IL
Location: California, Texas, Illinois

#8 x 5/8 Phil Pan Head, Tek #2 point, Hardened, Zinc Plated
Price: $5.49/1000
Quantity: 30M TX, 75M IL
Location: Texas, Illinois

1/4-20 x 1/4 Socket Set Screw Cup Pt Brass
Price: $50/1000
Quantity: 5000
Location: Florida

1/4-20 x 1/4 Socket Set Screw Cup Pt 316LStn
Price: $50/1000
Quantity: 37,000
Location: Florida

Washers

7/8 SAE Flat Washers, Low Carbon, Plain
Price: $42.10 per 100 lbs
Quantity: 8140
Location: Virginia